---
As Mahindra Electric Reinvents Its Electrification Strategy From Personal Ownership To Shared Mobility, The Experience With The E2O Plus Electric Car Will Be Valuable In Redefining Its Future!
---
Mahindra Electric, another automotive manufacturer with aspiration for leadership in the Indian electric vehicle sector, is part of the conglomerate Mahindra & Mahindra. Mahindra acquired the Bengaluru based Reva Electric Car Company, as part of its electrification strategy. Mahindra changed the name from Reva to Mahindra Electric Mobility Limited.
Though electric vehicles are not a new invention, Reva (Revolutionary Electric Vehicle Alternative) was a front runner in regards to modern electric cars. The company was founded by Chetan Maini in 1994. The REVA went launched in India in 2001 and in the UK in 2003.
The Mahindra E2O Plus hatchback is a battery-electric vehicle (BEV) targeted at the urban environment. The E2O plus replaced the all-electric two-door Mahindra E2O. However the E2O Plus has been discontinued in India, as the automotive company reinvents its electrification strategy away from personal ownership to shared mobility. However the E2O Plus is still being manufactured for export to international markets. The key reason for discontinuing the Mahindra E2O Plus was the introduction of new safety norms in India.
The all-electric car comes in three variants: P2, P4 and P6. The P2 has an emission-free electric driving range of 140 km, while the P4 and the P6 have a zero-emission range of 100 km. All variants come with regenerative braking.
The e20 P2 variant has the largest lithium-ion battery capacity (280 Ah), while the P4 and P6 variants have a 210 Ah EV battery. The P2 can be fully charged in 7 hours and 20 minutes (3 kW single phase 16 A charger) and in 1 hour and 35 minutes using a 10 kW 3 phase 32 A charger.
All three variants have a top speed of 80 km/h and similar acceleration. The E2O can achieve 0-40 km/h in 6.3 seconds and 0-60 km/h in 14.1 seconds. All three variants have a 3 phase AC induction motor. The company claims a running cost of 80p/ km. As is the case with all EVs, the car comes with an automatic transmission (i.e. direct drive).
The all-electric Mahindra E2O also comes with REVive, a Mahindra Electric product that reduces range anxiety by supply additional range (km). As is now expected of all EVs, the E2O comes with a mobile app that enables remote locking/ unlocking of doors and pre-cool the EV.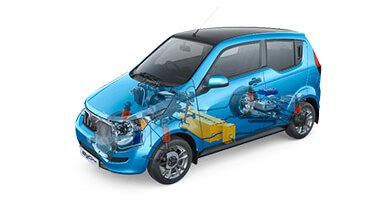 The eco-friendly EV also comes with other features to include a state-of-the-art-infotainment, reverse camera, smart connectivity, electric power steering, Mahindra signature grill and crystal LED tail lamps. The EV is available in four colours: coral blue, wine red, arctic silver and solid white.
The vehicle and EV battery warranty is for 3 years or 60,000 km (whichever is earlier).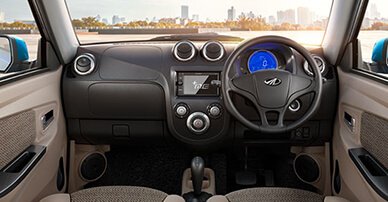 ---
Battery And Range
---
Battery capacity: 210 Ah to 280 Ah
Battery type: lithium-ion
Range: 110 km to 140 km
Capable of full charge in 95 minutes
---
Power & Performance
---
0-100 km/h: 14.1 seconds
Top speed: 80 km/h
Max Power: 19 kW @ 3500 r/ min
Torque: 70 Nm
---
---