---
---
Electric Cars: The Basics
---
For those of you new to zero-emission electric driving, we recommend a read of the following articles:
---
Sign up to the newsletter
---
Though we have been unable to sit in an all-electric Tesla car in India, it has not stopped us taking an incredible ride in 2020, by buying the Tesla stock. EV models like the Tesla Model Y have contributed to its phenomenal valuation!
---
We Indians, love our cars and our stocks. It is not often that we can find both loves in a single company. The US based Tesla Inc., famed for its zero-emission electric cars globally, has given us both in a single company. A fantastic portfolio of plug-in electric vehicles, and also a fantastic 2020 performance of the Tesla stock listed on the NASDAQ stock market (TSLA).
For those of you new to electric cars and Tesla, the company was co-founded by Elon Musk, now recognised globally as a high profile entrepreneur. Elon is famous for companies way beyond the boundaries of the automotive sector. He is also behind SpaceX (Space Exploration Technologies Corp), a Musk company with another audacious vision. Elon founded SpaceX in 2002 with a vision to colonise the planet Mars and to reduce the cost of space travel.
At the end of 2020, Elon was listed as the second richest individual in the world, with a net worth of US$ 167 billion (Bloomberg Billionaires Index). Much of this value can be attributed to the US$ 650 billion valuation of Tesla stock at the end of 2020! Elon Musk owned 193.3 million Tesla shares, representing 20.7% of total shares outstanding as of 31st December 2019.
2020 has witnessed not only an unprecedented growth in the adoption of electric vehicles globally, but also a staggering performance of EV stocks. The exponential rise of Tesla stock from US$84 in January 2020 to nearly US$700 at the end of December 2020, is a reflection of both, the performance of the company, and also the broader positive view of the zero-emission electric vehicle sector.
The mass-scale adoption of electric vehicles is now a reality for a number of regions, with countries like the United Kingdom announcing the ban of the sale of new petrol and diesel cars from 2030. Though the Government of India (GoI) has expressed a vision to ban the sale of petrol and diesel vehicles, we are yet to gain more clarity on the date and specific legislation.
Tesla is well known for the all-electric Tesla Model X SUV, the all-electric Tesla Model S sedan and the all-electric Tesla Model 3 electric car. Though it is not yet clear if Tesla EVs will be available in India in 2021, recent remarks by the GoI seem to suggest Tesla electric cars will be on Indian roads in 2021! Elon Musk had met with the Indian prime minister, Mr Modi during his visit to Tesla plant in America in 2015.
---
Tesla Model Y Electric SUV
---
The all-electric Tesla Model Y compact crossover is the fourth EV in the current lineup of Tesla electric cars. It is the second electric SUV from Tesla. It is currently available in only the US, but expected to be on European roads by mid-2021 and hopefully on our roads in India, sooner than later!
The Tesla Model Y EV enters a fiercely competitive segment i.e. electric compact crossover utility vehicle (CUV). The pure electric Model Y is a smaller alternative to the Tesla Model X electric SUV, easily recognisable for its gull-wing doors. The Model Y will compete against the likes of the Volkswagen ID.4 electric SUV in Europe. In India, we expect it to compete with the all-electric Jaguar I-PACE SUV and the pure electric MG ZS EV.
The Tesla Model Y plug-in electric vehicle is based on the same platform as the award-winning Tesla Model 3 (nearly 75% in common), except slightly longer and wider. The compact electric vehicle was unveiled in 2019. Production commenced in early 2020 at the Tesla US plant with deliveries commencing from end of 1st quarter 2020. However, Covid-19 did impact production schedules in 2020.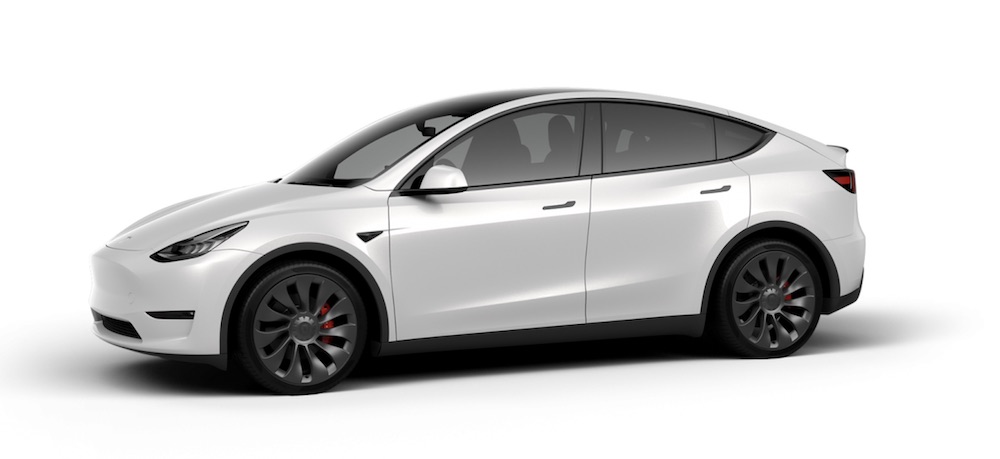 The Tesla Model Y BEV is available in two variants in the US: Long Range and Performance. The Tesla Model Y Long Range is priced at US$49,990 (Rs 36.50 lakhs), while the Model Y Performance is priced at US$ 59,990 (Rs 43.82 lakhs).
Elon is committed to increasing the affordability of Tesla electric cars and the introduction of the Tesla Model 3 is an execution of this vision. The Model Y is also part of the Tesla 'affordability vision', hence its much cheaper price compared to the Tesla Model X SUV, priced from US$73,190. Of course, in regards to India, Tesla electric vehicles will be viewed as 'premium', with only a small part of the population with the wallet to purchase one!
The Long Range is an all-wheel drive with an electric driving range of 326 miles (EPA est.). The EV has two independent motors and can achieve 0-60 mph in 4.8 seconds (top speed: 135 mph). The Performance, also an all-wheel drive, has a higher top speed of 155 mph and can achieve 0-60 mph in 3.5 seconds (range EPA: 303 miles).
The above range is more than ample for most of our requirements in India. As an example, for those that work and commute between New Delhi and Gurugram, a distance of 35 kilometres (21.75 miles), the electric vehicle may only need to be charged once a week!
The Tesla Model Y can carry up to 7 passengers (when the additional row is made available), which is certainly an important selling point for the compact crossover compared to its competitors. Of course, given our large families in India, 7 seats are a must for children, parents and grandparents to fit in comfortably!
The electric crossover also has a 1,900-litre load bay. Another attractive feature is that the Model Y will have full self-driving capability (pending regulatory approval). The EV is fitted with cameras that give the driver a 360 degrees view (rear, side and forward-facing cameras). The cameras are certainly helpful for our roads but it will be sometime before we can truly leverage self-driving capability in India.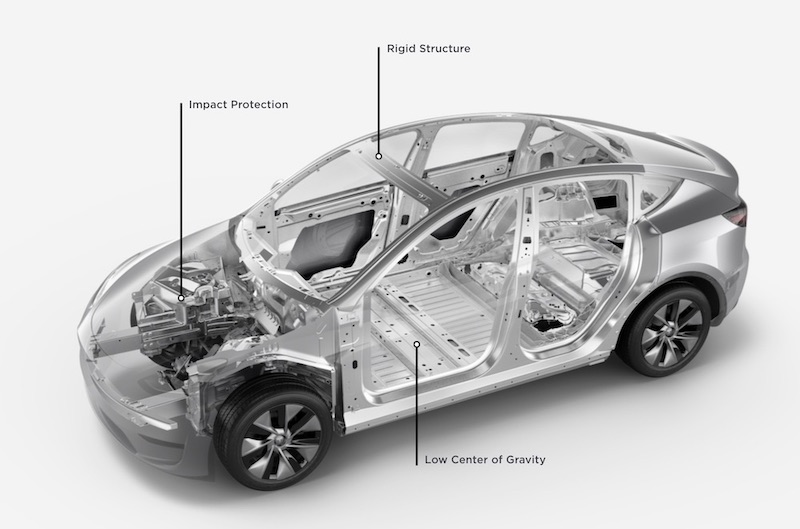 The interior is fitted with a 15″ centre touch screen via which most functions of the electric car can be controlled. Other features include, a 12-way power adjustable front and rear heated seats, premium audio, tinted glass roof with ultraviolet and infrared protection. Of course, heated seats are not a luxury we need for the hot climate in India, but just in case you plan a road trip to the Himalayas in the winter, it may come to use! It is worth noting that the car can be cooled remotely, which certainly will be appreciated during our hot and never ending summers.
As with other Tesla electric cars, the Tesla Model Y has a 4 years or 50,000 miles warranty (whichever comes first). The EV battery has a warranty of 8 years or 120,000 miles (which ever comes sooner).
We certainly hope that Tesla will replicate its approach to the deployment of charging infrastructure in India, so that Tesla owners in India may also benefit from rapid charging via the Tesla Supercharger network (recharge 162 miles in 15 minutes). Tesla currently has 20,000 Superchargers globally, with six new locations opening every week.
Look forward to seeing the pure electric Tesla Model Y on the NH8 highway!
---