---
---
Electric Cars: The Basics
---
For those of you new to zero-emission electric driving, we recommend a read of the following articles:
---
Sign up to the newsletter
---
The BMW X1 SUV PHEV
---
BMW (Bayerische Motoren Werke AG), is a leading global automotive manufacturer headquartered in Munich, Germany. BMW is well known for its portfolio of luxury vehicles, to include the famed Rolls-Royce luxury cars.
The group manufacturers a number of cars under its BMW brand, to include battery-electric vehicles (BEVs) and plug-in hybrid electric vehicles (PHEVs). The company currently has the following portfolio of plug-in hybrid electric vehicles (PHEVs):
The BMW X1 compact luxury SUV has been on sale since 2009. The SUV is currently on its second generation. The BMW X1 plug-in hybrid electric vehicle (PHEV) is available as an all-wheel drive (AWD) as standard.
SUVs continue to remain the rage globally, and the BMW X1 PHEV is a good entry-level option for consumers seeking a premium-badge, financial savings and lower tailpipe emissions from a compact SUV.
The BMW plug-in hybrid electric vehicle has a 8.82 kWh onboard EV battery, with a quoted WLTP pure electric range up to 50 km. Most of the recent PHEVs incorporate a larger EV battery and deliver a higher zero-emission EV range. Having said that, for shorter distances, in particular, in towns and cities, an electric range over 40 km is more than sufficient.
In fact, more than 2/3rds of motorist drive at an average 50 km per day. Despite the quoted manufacturers electric range, expect the real-world range to be lower, impacted by a number of factors, to include: the way the electric vehicle (EV) is driven, the conditions of the road, speed, weather, the passenger load, regenerative braking profile and more. A real-world pure electric range will be closer to 40 km.
We at e-zoomed recommend (when appropriate), to always choose the maximum available regen braking profile in the EV. This will help recuperate more energy and increase the overall fuel-economy of the electric car. Moreover, we also suggest to keep the EV battery 'topped up', as the more the EV can be driven on electric mode, the higher the financial savings. Keep in mind that driving an EV per km is much cheaper than driving using petrol or diesel.
The X1 EV has a 3.6 kW onboard charger, sufficient for charging a small 8.82 kWh EV battery. Though an EV can be charged using a 3-PIN domestic socket, we would encourage EV drivers to charge using a dedicated residential EV charger like Easee: faster and safer in charging operation, compared to a domestic 3-PIN plug! The EV can be fully charged in 3 hours. The electric car does not offer DC charging. BMW offers a 8 years or 160,000 km warranty.
The all-wheel drive BMW X1 xDrive25e PHEV pairs a 1.5-litre (3-cylinder) petrol combustion engine, with an electric motor (70 kW). The EV achieves 0-100 km/h in 6.9 seconds, with a top speed of 193 km/h (electric mode: 133 km/h). Of course, a plug-in hybrid electric vehicle will be a little heavier than the internal combustion engine variant, given the additional weight of the onboard EV battery. However, a PHEV does gain from the availability of instant torque.
The plug-in SUV has a claimed fuel economy up to 1.7 l/100km, but this will vary, given the amount the EV is driven on electric mode. To achieve a better fuel economy and financial savings, using the EV range on a regular basis will be imperative.
In terms of practicality and quality, the X1 plug-in hybrid does not disappoint. There is ample legroom and headroom for front and rear passengers. Despite the boot size reduced in size due to the placement of the EV battery, it still offers 450 L. The interior is completed to a high quality and is technology-filled, to include: driving assistant plus, BMW Head-Up Display, parking assistant, wireless charging, Apple Car Play and a lot more.
The EV has claimed tailpipe emissions up to 43g CO2/km. Again, substantially lower than the emissions of the conventional petrol variant. Bottom-line, electric driving is good for the environment and the wallet! The BMW electric car is not available in India.
---
| | |
| --- | --- |
| Versatile and a practical family SUV without compromising on quality and comfort | Small EV battery and limited electric range |
| Compact SUV for city use | More affordable than other BMW PHEVs |
| Cheap to run on electric mode | On-board charger limited to 3.7 kW |
---
Gallery
---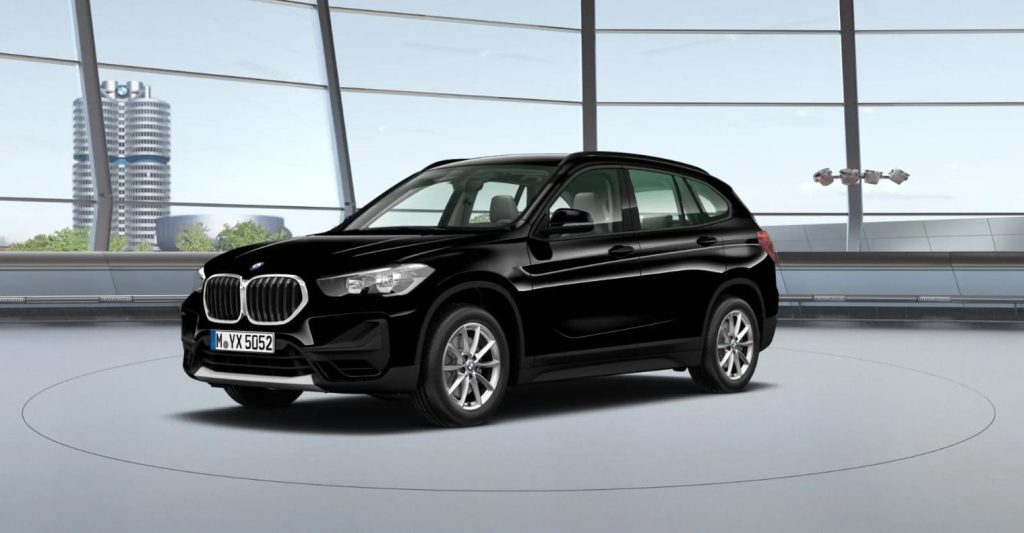 The BMW X1 Plug-In Hybrid SUV (credit: BMW)
---
| | |
| --- | --- |
| EV Type: | Plug-In Hybrid Electric Vehicle (PHEV) |
| Body Type: | SUV |
| Engine: | Petrol-Electric |
| Available In India: | No |
---
Variants (1 Option)
BMW X1 xDrive25e (from ₹ N/A)
---
| | |
| --- | --- |
| EV Battery Type: | Lithium-ion |
| EV Battery Capacity: | Available in one battery size (8.82 kWh) |
| Charging: | DC charging not available. On-board charger 3.7 kW AC (0% – 100%: 3 hrs) |
| Charge Port: | Type 2 |
| EV Cable Type: | Type 2 |
| Tailpipe Emissions: | 43 – 41g (CO2/km) |
| Battery Warranty: | 8 years or 160,000 km |
---
| | |
| --- | --- |
| Slow charging AC (3 kW – 3.6 kW): | 6 – 12 hours (dependent on size of EV battery & SOC) |
| Fast charging AC (7 kW – 22 kW): | 3 – 8 hours (dependent on size of EV battery & SoC) |
| Rapid charging AC (43 kW): | 0-80%: 20 mins to 60 mins (dependent on size of EV battery & SoC) |
| Rapid charging DC (50 kW+): | 0-80%: 20 mins to 60 mins (dependent on size of EV battery & SoC) |
| Ultra rapid charging DC (150 kW+): | 0-80% : 20 mins to 40 mins (dependent on size of EV battery & SoC) |
| Tesla Supercharger (120 kW – 250 kW): | 0-80%: up to 25 mins (dependent on size of EV battery & SoC) |
Note 1: SoC: state of charge
---
| | |
| --- | --- |
| Height (mm): | 1582 |
| Width (mm): | 1821 |
| Length (mm): | 4447 |
| Wheelbase (mm): | 2670 |
| Turning Circle (m): | N/A |
| Boot capacity (L): | 450 |
---
| | |
| --- | --- |
| EV Battery Capacity: | 8.82 kWh |
| Pure Electric Range (WLTP): | 50 km |
| Electric Energy Consumption (km/kWh): | 15.0 − 15.4 |
| Fuel Consumption (l/100km): | 1.7 − 1.9 |
| Charging: | DC charging not available. On-board charger 3.7 kW AC (0% – 100%: 3 hrs) |
| Top Speed: | 193 km/h (electric: 133 km/h) |
| 0-100 km/h: | 6.9 seconds |
| Drive: | All-wheel drive (AWD) |
| Electric Motor (kW): | 70 |
| Max Power (hp): | 220 |
| Torque (Nm): | 220 |
| Transmission: | Automatic |
| Seats: | 5 |
| Doors: | 5 |
| Unladen Weight-EU (kg): | 1,820 |
| Colours: | 6 |
| NCAP Safety Rating: | Five-Star |
---
Air Quality: The Basics
---
It does not matter where in India one lives, no one can escape the increased level of air pollution engulfing our villages, towns and cities, across the country. However, this is not unique to India.
Air pollution has been documented globally as one of the key issues in increased mortality rates, in particular, for those that are most vulnerable: the children and the aged. Increased air pollution has been linked to increases in premature deaths, higher rates of cancer, heart attacks, stroke and lung diseases.
In India, air quality worsens closer to more densely populated urban centres, the 1st, 2nd and 3rd tier cities. Delhi, Mumbai, Kolkata and Bengaluru are just some of the examples of cities with dangerous levels of toxic air pollution or poor air quality. In fact, air pollution levels have been so high in India in the recent years, that it has captured the attention of the world media.
Many factors affect the level of air pollution, but one that is significant, is the pollution released from road transportation, commonly referred to as 'emissions' or tailpipe emissions. For the majority of the globe, to include, India, emissions from petrol and diesel vehicles contribute more than 30% to air pollution. 
This is an average, and certainly, in more populated cities like Delhi and Mumbai, the level of toxic contribution from vehicle exhausts will be even higher. The other major contributor to air pollution is energy production and consumptions (fossil fuels).  
---
So, what is air pollution?
---
Air pollution is the release of pollutants in our atmosphere that have a negative impact on the health of individuals and the environment as a whole.
The majority of pollutants are invisible. The are minutely small particles (finely divided solids) or gases that cannot be seen with the naked eye. These extremely small solid or liquid particles are also called particulates. Examples are: fumes, smoke, dust and soot. The majority of these particulates are less than 10 micrometres.
Air pollution can affect the environment both outdoors and indoors. There are a number of different types of pollutants, but the most well known are particulate matter, carbon dioxide, methane, carbon monoxide, sulphur dioxide and nitrogen dioxide.
Both carbon monoxide (CO) and nitrogen oxides (NO2), contribute to smog formation, very common in the winter months. Sulphur dioxide (SO2) contributes to haze and also acid rain formation. Particulate matters also contributes to haze and acid rain. All the above negatively impact health by increasing irritation of breathing passages, aggravation of asthma and irregular heartbeat.
Pollutants like carbon dioxide have a far reaching consequence on our lives. It is not only air pollution that it impacts, but as being a major source of greenhouse gas, CO2 has a long-term and detrimental impact on our environment and ecosystem. More commonly refereed to as 'climate change'.
Most of us know in India are familiar with PM 2.5 (fine particulate matter). These are tiny particles or droplets that are two and one half microns or less in width. A micron is a unit of measurement of length equal to one millionth of a metre. An increase in levels of PM 2.5 concentrations result in an increase in unhealthy air quality, haze etc. Vehicle exhausts are a major contributor to higher levels of PM 2.5 in the air.
Though measures like reducing traffic (odd-even system in Delhi), wearing air masks etc. can help reduce the impact of pollution, the reduction is not far-reaching. Zero-emission road transportation i.e. electric cars, are a panacea for a sustained and comprehensive improvement in air quality. The sooner, we in India, migrate to electric vehicles, the sooner can we start to improve our local air quality.
---
While e-zoomed uses reasonable efforts to provide accurate and up-to-date information, some of the information provided is gathered from third parties and has not been independently verified by e-zoomed. While the information from the third party sources is believed to be reliable, no warranty, express or implied, is made by e-zoomed regarding the accuracy, adequacy, completeness, legality, reliability or usefulness of any information. This disclaimer applies to both isolated and aggregate uses of this information.
---
Related articles
---