---
---
Electric Cars: The Basics
---
For those of you new to zero-emission electric driving, we recommend a read of the following articles:
---
Sign up to the newsletter
---
The Lexus RX PHEV SUV
---
Lexus, renowned for the manufacture of luxury cars, is owned by the Japanese automotive behemoth, Toyota Motor Corporation. Lexus was created in 1989 to compete against Japanese rivals, Honda Motor Company and Nissan Motor Company, who had established their premium brands, Acura and Infiniti, respectively. However, work on the Lexus concept commenced as early as 1983.
The Lexus brand is now a well recognised global automotive brand in the premium segment, with its luxury cars sold in more than 90 countries. The United States continues to be its largest market. Though Lexus is relatively late to the global electrification (EV) race, the company has been involved with hybrid technology since 2005, the year the hybrid version of the RX crossover made its debut. The company has been a leader in 'self-charging hybrid cars'. The company currently has 8 vehicles that use hybrid/ plug-in hybrid technology and has only one battery-electric vehicle (BEV). The company has the following plug-in electric vehicles (EVs):
The Lexus RX plug-in hybrid (PHEV)
The Lexus RX SUV has been around since 1998. The luxury SUV has been reincarnated successfully through five-generations, and the RX Hybrid was the first Lexus model to be built outside Japan. The Lexus RX became the best-selling Lexus model shortly post launch, galvanising the broader expansion of the premium SUV segment.
In fact, to date, Lexus RX has sold over 3.5 million globally! The incorporation of the self-charging hybrid powertrain in 2005 played a key role in the success of the model. The current 5th generation was unveiled in May 2022, and is built on the GA-K platform, which includes, the RX plug-in hybrid variant. The Lexus NX PHEV also uses this platform.
In general, given the significant improvement in the electric range of the latest-generation battery-electric vehicles (BEVs), there are very few good reasons to choose a plug-in hybrid electric vehicle (PHEV), instead of a pure electric car. The only really compelling reason for buying a PHEV in 2023, is that you have very limited access to EV charging, either at home, public charging or the workplace, and that you need to travel significant distances on a very regular basis.
There is now only a minority of drivers that will fit this bill, as most of us have access to electric car charging, either at home, public charging stations or at the workplace! Moreover, most drivers average a mere 50 km a day! If indeed you are determined on a PHEV, albeit, a premium plug-in hybrid, then the Lexus RX PHEV maybe worth consideration.
A glance at the list of the longest range plug-in hybrids for 2023, makes it amply clear, that to be class-leading, a plug-in hybrid needs to offer a pure electric range over 100 km on a single charge. Though the Lexus RX 450h+ plug-in hybrid benefits from Lexus's fourth-generation self-charging hybrid and EV technology, it is surprising that the PHEV does not offer a class-leading electric range.
The RX plug-in hybrid incorporates a 18.1 kWh onboard EV battery with a claimed emission-free range up to 68 km (WLTP). Decent, but not inspirational. Moreover, adjusting the e-range for real-world driving conditions, the electric range will be closer to 55 km.
In comparison, the Volvo V60 PHEV, with a nearly similar sized EV battery (18.8 kWh) to the Lexus PHEV, has a claimed e-range up to 91 km (WLTP). Even more impressive is the Range Rover Sport PHEV, which offers up to 113 km on a single charge.
But of course, it is not just about the financial savings gained from driving a PHEV on electric mode, it is also the zero-tailpipe emissions when driven on e-mode. The Lexus RX PHEV has claimed tailpipe emissions up to 26g (CO2/km), which enhances its appeal. It is worth noting that in comparison, the Range Rover plug-in hybrid has claimed tailpipe emissions up to 20 (CO2/km), and the conventional RX petrol variant has emissions up to 189 (CO2/km). Bottom-line, the more the PHEV is driven on e-mode, the lower the tailpipe emissions!
In terms of charging, the Lexus RX plug-in hybrid does not offer DC charging. Most PHEVs do not incorporate DC charging capability, given the smaller EV battery size. The RX PHEV has a 6.6 kWh AC onboard charger and can be fully charged in 2.5 hours via a dedicated residential EV charger.
The Lexus RX plug-in hybrid combines a 2.5-litre four-cylinder petrol engine with the onboard motor/ generator and the EV battery. The all-wheel drive PHEV can achieve 0-100 km/h in 6.5 seconds (maximum power: 309 hp/ torque: 391 Nm). The EV also benefits from instant torque when drivel on the e-mode. The top speed of the PHEV is 180 km/h. More than sufficient for a family SUV! Lexus claims a fuel economy up to 1.1 l/100 km, but in real-world driving conditions, this is not realistic!
The PHEV is available in three trims, with loads of technology and equipment as standard. The cockpit is based on the Japanese Tazuna ('reins for a horse') concept (similar to the Lexus RZ BEV), and also incorporates the Omotenashi 64 colours ambient lighting. The plug-in hybrid also features a 14″ touchscreen, along with the Lexus advanced voice assistant system. As expected from a Lexus, the interior cabin is appointed to a high quality, with ample legroom and headroom. The boot size is 461 L.
The EV also incorporates a host of safety features (3rd generation Lexus Safety System +), and has been awarded a 5-Star EURO NCAP safety rating. The PHEV also offers an advanced parking feature, whereby, it will park the car for you! Other features include: blind spot monitor, rear cross traffic alert and braking, proactive driving assist, driver monitor, safe exit assist, Bladescan® AHS headlight technology and more!
As for the exterior appeal, the RX does not lack any confidence, in particular, given the new spindle body design and sportier aerodynamic coupé-like styling! The rear incorporates the new Lexus signature blade light that spans the entire width. Company-car drivers can also take advantage of the Lexus PHEV to reduce the cost of motoring.
Bottom-line, electric driving is good for the environment and the wallet! The Lexus RX PHEV is not available in India.
---
| | |
| --- | --- |
| Decent electric range | Cheaper alternatives available |
| Good level of standard equipment and safety features | Some alternatives offer longer electric range |
| Quality interior and attractive exterior styling | Rear-view visibility limited |
---
Gallery
---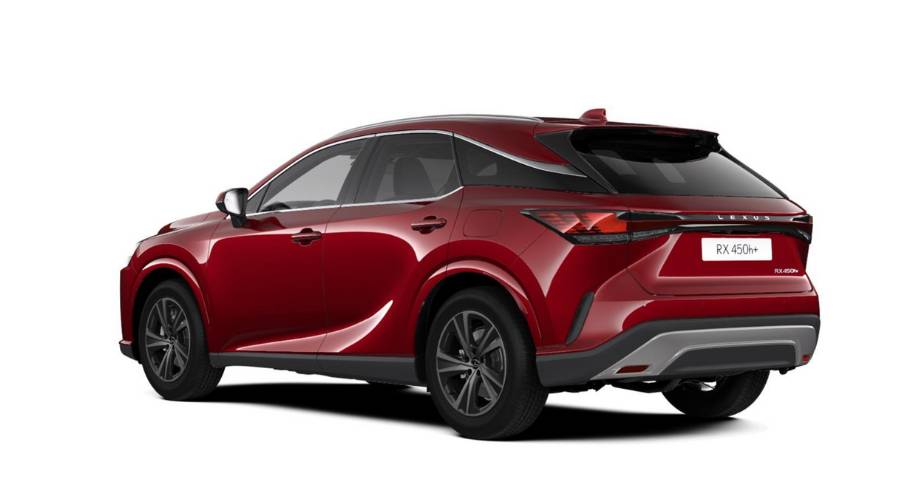 The Lexus RX PHEV SUV (credit: Lexus)
| | |
| --- | --- |
| EV Type: | Plug-In Hybrid Electric Vehicle (PHEV) |
| Body Type: | SUV |
| Engine: | Petrol-Electric |
| Available In India: | No |
---
Variants (1 Option)
Lexus RX 450h + (from Rs N/A)
---
| | |
| --- | --- |
| EV Battery Type: | Lithium-ion |
| EV Battery Capacity: | Available in one battery size: 18.1 kWh |
| Charging: | DC rapid charging not available. Onboard charger 6.6 kW AC (0% – 100%: 2.5 hrs) |
| Charge Port: | Type 2 |
| EV Cable Type: | Type 2 |
| Tailpipe Emissions: | 26g (CO2/km) |
| Warranty: | 8 years or 160,000 km |
---
| | |
| --- | --- |
| Slow charging AC (3 kW – 3.6 kW): | 6 – 12 hours (dependent on size of EV battery & SOC) |
| Fast charging AC (7 kW – 22 kW): | 3 – 8 hours (dependent on size of EV battery & SoC) |
| Rapid charging AC (43 kW): | 0-80%: 20 mins to 60 mins (dependent on size of EV battery & SoC) |
| Rapid charging DC (50 kW+): | 0-80%: 20 mins to 60 mins (dependent on size of EV battery & SoC) |
| Ultra rapid charging DC (150 kW+): | 0-80% : 20 mins to 40 mins (dependent on size of EV battery & SoC) |
| Tesla Supercharger (120 kW – 250 kW): | 0-80%: up to 25 mins (dependent on size of EV battery & SoC) |
Note 1: SoC: state of charge
---
| | |
| --- | --- |
| Height (mm): | 1695 |
| Width (mm): | 1920 |
| Length (mm): | 4890 |
| Wheelbase (mm): | 2850 |
| Turning Circle (m): | 12.6 |
| Boot Space (L): | 461 |
---
| RX 450h + | |
| --- | --- |
| EV Battery Capacity: | 18.1 kWh |
| Pure Electric Range (WLTP): | 68 km |
| Electric Energy Consumption (kWh/100km): | N/A |
| Fuel Consumption (l/100 km): | 1.1 – 1.2 |
| Charging: | DC rapid charging not available. Onboard charger 6.6 kW AC (0% – 100%: 2.5 hrs) |
| Top Speed: | 180 km/h |
| 0-100 km/h: | 6.5 seconds |
| Drive: | All-wheel drive (AWD) |
| Max Power (hp): | 309 (227 kW) |
| Torque (Nm): | 391 |
| Transmission: | Automatic |
| Seats: | 5 |
| Doors: | 5 |
| Kerb Weight (kg): | 2,110 – 2,240 |
| Colours: | 11 |
| NCAP Safety Rating: | Five-Star |
---
Electric Driving: Top 5 EV Jargons For India
---
Many of us living in India, have now come across an electric car, like the Tata Nexon EV. Some have been fortunate enough to even drive in one, or even better, own an e-vehicle. Even though, India, is still at a nascent stage in terms of electric driving, the latest-generation of electric cars, like the all-electric Kia EV6, are already on roads in India. Of course, also on our roads are other Tata and Mahindra electric cars.
Despite the increased visibility of EVs in India, the vocabulary (jargon) used in electric driving is still new to consumers. In fact, for many, it can seem daunting and confusing. We have therefore put below some of the more commonly used terms in the EV glossary, to give you an easier introduction to electric driving in India!
---
| EV Glossary: Top 5 | |
| --- | --- |
| DoD (Depth-Of-Charge): | What is Depth-Of-Charge? A battery's Depth-of-Charge is the level of discharge of a battery. As you drive an EV, the battery is discharged. The DoD indicates the % that has been discharged relative to the capacity of a battery. Conversely, a State-of-Charge (SOC), is the percentage of capacity still available in a battery. If you use 25% of your EV battery capacity, then the DoD is 25% and the SOC is 75%. It is recommended not to fully discharge an electric car battery, as this reduces the lifespan of a battery. Automotive manufacturers publish recommend DoD levels for charging, but a charging range between 20% to 80% is ideal. |
| EV Battery Life: | What is the life of an EV battery? Like petrol and diesel engines, electric car batteries also have a finite lifespan. Though EV battery technology has come a long way over the past few years, battery degradation is inevitable. Just as normal wear and tear is the case for an internal combustion engine (ICE) vehicle. Currently most EV manufacturers are offering a warranty up to 8 years or 160,000 km. However, some automotive manufacturers are offering an even longer EV battery warranty. An example is the Japanese automotive manufacturer, Toyota. The company offers a 10 years EV battery warranty for the all-electric Toyota bZ4X SUV. In most cases, such warranties are up to 70% of the original EV battery capacity. The battery life is impacted by a number of factors, which in turn impacts battery electrical performance, to include, the range the electric car can travel. The most commonly used batteries in electric cars are lithium-ion batteries. |
| Frunk: | What is a frunk? Though a frunk is not a new term, its availability is becoming more widespread with the development of electric vehicles (EVs). A frunk is a storage space/ compartment/ trunk in the front of a vehicle, rather than the rear. In the case of pure electric cars, given that these vehicles do not have an onboard internal combustion engine (ICE), there is space for a frunk. It is worth noting that a frunk is usually much smaller than a trunk, and in EVs, a good space for storing the EV cable. |
| One-Pedal Driving: | What is one-pedal driving? In one-pedal driving, the EV slows down or stops, when the pedal is released. One-pedal functionality reduce the need to use the brake pedal, for speed reduction or stopping. Of course, the brake pedal is still the best way to hold a vehicle in place at a complete stop. |
| WLTP (Worldwide Harmonised Light Vehicle Test Procedure): | In a bid to continue to improve the quality of realistic data released by automotive manufacturers, on economy, range and CO2 emissions, Europe has implemented its first phase for the WLTP program. The testing procedures under WLTP will result in reduced ranges for electric cars released under other previous testing regimes. The WLTP is seen as a significant improvement over the New European Driving Cycle (NEDC) designed in the 1980s and based on theoretical driving. The WLTP has been developed with the aim of becoming a global standard, so that cars can be easily compared between regions. |
---
While e-zoomed uses reasonable efforts to provide accurate and up-to-date information, some of the information provided is gathered from third parties and has not been independently verified by e-zoomed. While the information from the third party sources is believed to be reliable, no warranty, express or implied, is made by e-zoomed regarding the accuracy, adequacy, completeness, legality, reliability or usefulness of any information. This disclaimer applies to both isolated and aggregate uses of this information.
---
Related articles
---