---
India Electric Vehicle (EV) Market
---
India, like many other countries, is well positioned to benefit from the shift to zero-tailpipe emission electric driving. Road transportation is a major contributor to air pollution (over 30%), choking our towns, cities and villages across India. Diesel vehicles, in particular, diesel trucks and diesel buses, are significant sources for tailpipe emissions. But given the rise in the standard of living, since liberalisation, the demand for privately owned passenger cars has increased at an unprecedented pace, further worsening the air quality. India has more than 3 crores (30 million) cars releasing tailpipe emissions on its roads!
Though we have seen some improvements in air quality during the ongoing pandemic (as a result of lower vehicle traffic), India's shift to electric driving will be key in achieving long-term higher air quality. Of course, apart from EVs, the continued development of green and renewable energy infrastructure will be key in achieving lower long-term air pollution. India has already demonstrated global leadership in regards to large-scale solar and wind projects! Hopefully, India will replicate the success with zero-emission electric vehicles.
Despite recent announcements and support from local and national government agencies in India, the EV market is still at a nascent stage, well, at least in terms of electric cars and electric vans. Two-wheel electric scooters and three-wheel electric rickshaws (e-rickshaws) have demonstrated a strong uptake, and India is poised to become a global leader in electric scooters and electric rickshaws (e-tuk). In fact, the ubiquitous e-rickshaw commands an impressive 83% of the Indian electric vehicle market. India currently has over 15 lakhs (1.5 million) e-rickshaws, with each EV playing a role in reducing tailpipe emissions on our roads in India.
Sales of passenger electric cars is still at an early stage. In FY2021, though the market witnessed a growth of nearly 110% from the previous year, the absolute volume of cars sold was only 5,905 electric cars. Currently there are less that 15 pure electric car models available on sale in India.
Tata Motors, the biggest automotive manufacturer in India has launched the Tata Nexon electric SUV. Mahindra Electric, another leading Indian automotive manufacturer, has also launched a number of plug-in electric vehicles (EVs), to include, the Mahindra eVerito electric car, Mahindra eSupro electric van and Mahindra e2o Plus compact electric car. International manufacturers, like UK based MG Motors, have also launched the MG ZS electric SUV in India. Also available are the all-electric Jaguar I-PACE SUV and the Hyundai Kona electric SUV.
For those keen on an overview of the global electric vehicle (EV) market, simply scroll down to the end of the article.
---
---
Electric Cars: The Basics
---
For those of you new to zero-emission electric driving, we recommend a read of the following articles:
---
Sign up to the newsletter
---
The Jaguar I-PACE Electric SUV
---
Jaguar Land Rover (JLR) Automotive PLC is a leading luxury vehicle manufacturer with a distinctive reputation of being British and iconic. However the automotive company is now owned by the leading Indian industrial conglomerate, the Tata Group.The company currently has the following battery-electric vehicles (BEVs) and plug-in electric vehicles (PHEVs):
The Jaguar I-PACE battery-electric vehicle (BEV) was unveiled at the 2018 Geneva Motor Show. It is the first all-electric performance SUV from Jaguar Land Rover (JLR). Deliveries commenced in the second half of 2018. The model has won a number of awards, to include: the European Car of the Year, World Car of the Year, the Best Design and Best Green Car awards.
Though the Jaguar I-PACE was one of the first pure electric SUVs from a mainstream automotive manufacturer to challenge the dominance of Tesla electric cars, since 2018, many other car manufacturers have entered the zero-emission electric vehicle (EV) sector. Competition in the pure electric SUV segment is now fierce, with a number of EVs on offer at different price ranges. Jaguar competes in the premium e-SUV range, along with Audi and Mercedes.
The Jaguar electric SUV is available in one EV battery size (90 kWh), with a claimed emission-free range up to 446 km. The newest eco-friendly BEVs on the market will average between 500 to 600 km on a fully-charged EV battery! Of course, the real-world electric range will be lower, impacted by several factors. Some include: weather conditions, road surface, tyre size, speed, load, onboard services used etc. Expect the I-PACE to deliver an electric range closer to 380 km.
This is certainly a useful range for city and motorway driving. It is a widely known fact, in that, the average distance of a trip is a mere 25 km. An average vehicle will travel between 10k and 12k km per annum i.e. less than 33 km per day.
The Jaguar EV offers DC charging up to 100 kW DC. This is not bad, but it is not class-leading. Some of the newer pure electric cars offer even faster DC charging capability. Having said that, 100 kW DC is still very fast and can charge the I-PACE 10% – 80% in 47 minutes. Put another way, at 100 kW DC, the EV can achieve 125 km in 15 minutes. At 50 kW DC, the EV can achieve 100 km in 15 minutes.
Though the I-PACE incorporates a 3-phase 11 kW onboard AC charger, given that most homes in India are powered by single-phase, leveraging up to 11 kW will only be possible for those homes fortunate to have 3-phase power supply.
Using a single-phase (7.4) kW dedicated EV charger, the I-PACE electric SUV can be fully charged in 12.75 hours (35 km of range from 60 minutes). For 11 kW AC charging, the EV can be fully charged in 9 hours (53 km of range from 60 minutes). Though the EV can be charged using a domestic 3-PIN socket, we at e-zoomed discourage the use of a domestic socket to charge an electric vehicle (EV). It will take up to 48 hours to charge the e-SUV via a domestic socket! We recommend charging overnight, at home, when the electricity prices are lower.
The Jaguar BEV is practical and versatile without compromising on quality and comfort. The rear seats are comfortable for adults, with ample legroom and headroom and appropriate for most family requirements. The available boot space is 505 L. The EV offers a number of safety features, to include: driver condition monitor, traffic sign recognition and adaptive speed limiter, lane keep assist, rear camera and more. The e-SUV has a 10″ Pivi Pro infotainment system and interactive driver display.
The all-wheel drive Jaguar I-PACE can achieve 0-100 km/h in 4.5 seconds. The EV delivers a maximum power up to 400 PS and 696 Nm instant torque. The top speed is 200 km/h. Do keep in mind that the EV has an increased weight due to the onboard battery. The SUV also benefits from regenerative braking.
Bottom-line, electric driving is good for the environment and the wallet! The Jaguar I-PACE EV is available in India.
---
| | |
| --- | --- |
| Good looks and exterior styling | Expensive. Cheaper pure electric SUV alternatives available |
| Decent electric range | DC charging limited to 100 kW |
| 11 kW AC 3-phase onboard charger as standard | Limited visibility/ blind spots (rear) |
---
Gallery
---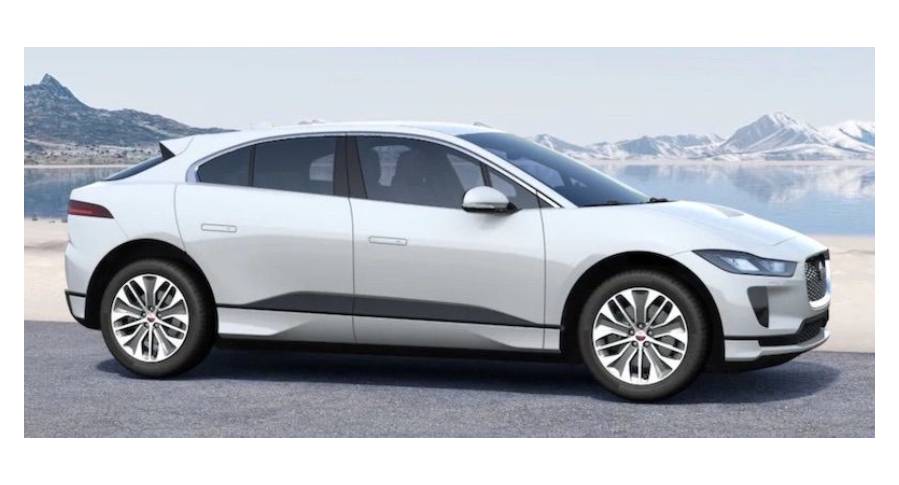 The All-Electric Jaguar I-PACE SUV (credit:JLR)
---
Driving an electric vehicle (EV) is cheaper than driving a petrol or diesel vehicle. As an example, in India, filling a full tank of fuel for the internal combustion engine (ICE) Tata Nexon SUV will cost up to Rs 5,000 (assuming an average cost per litre of Rs 100. The Tata Nexon has a fuel tank capacity of 44 L).
In comparison, the Tata Nexon Pure Electric SUV will cost less than Rs 300 for a full EV battery charge (EV Battery size: 30.2 kWh). In India, the average cost for residential electricity is between Rs 5 to Rs 10 per kWh(unit). Therefore the cost to drive per km (or mile) in a pure electric vehicle is substantially lower than a petrol or diesel vehicle.
At an average one can expect a cost per km of Rs 1 for a zero-emission EV, while for an equivalent petrol or diesel vehicle, the cost per km could be up to Rs 7 per km. The annual cost savings achieved by switching to electric driving is significant!
---
| | |
| --- | --- |
| EV Type: | Battery-Electric Vehicle (BEV) |
| Vehicle Type: | SUV |
| Engine: | Electric |
| Available In India: | Yes |
---
Trims (3 Options)
I-PACE SE(from Rs 1.19 Crore)
I-PACE Black(from Rs 1.19 Crore)
I-PACE HSE(from Rs 1.24 Crore)
---
| | |
| --- | --- |
| EV Battery Type: | Lithium-ion |
| EV Battery Capacity: | Available in one battery size: 90 kWh |
| Charging: | 100 kW DC Rapid Charging (10%-80%: 47 mins). Onboard charger 11 kW AC (0%-100%: 9 hrs) |
| Charge Port: | Type 2 |
| EV Cable Type: | Type 2 |
| Tailpipe Emissions: | 0g (CO2/km) |
| Warranty: | 8 years or 160,000 km |
---
| | |
| --- | --- |
| Slow charging AC (3 kW – 3.6 kW): | 6 – 12 hours (dependent on size of EV battery & SOC) |
| Fast charging AC (7 kW – 22 kW): | 3 – 8 hours (dependent on size of EV battery & SoC) |
| Rapid charging AC (43 kW): | 0-80%: 20 mins to 60 mins (dependent on size of EV battery & SoC) |
| Rapid charging DC (50 kW+): | 0-80%: 20 mins to 60 mins (dependent on size of EV battery & SoC) |
| Ultra rapid charging DC (150 kW+): | 0-80% : 20 mins to 40 mins (dependent on size of EV battery & SoC) |
| Tesla Supercharger (120 kW – 250 kW): | 0-80%: up to 25 mins (dependent on size of EV battery & SoC) |
---
| | |
| --- | --- |
| Height (mm): | 1566 |
| Width (mm): | 2139 |
| Length (mm): | 4682 |
| Wheelbase (mm): | 2990 |
| Turning Circle (m): | 11.98 |
| Boot Capacity (L): | 505 |
---
| | |
| --- | --- |
| EV Battery Capacity: | 90 kWh |
| Pure Electric Range (WLTP): | 446 km |
| Electric Energy Consumption (Wh/km): | 224.9 |
| Charging: | 100 kW DC Rapid Charging (10%-80%: 47 mins). Onboard charger 11 kW AC (0%-100%: 9 hrs) |
| Top Speed: | 200 km/h |
| 0-100 km/h: | 4.5 seconds |
| Drive: | All-wheel drive (AWD) |
| Electric Motor (kW): | 294 |
| Max Power (PS): | 400 |
| Torque (Nm): | 696 |
| Transmission: | Automatic |
| Seats: | 5 |
| Doors: | 5 |
| Driving Modes: | 3 (Comfort, Dynamics, Range Preservation) |
| Unladen Weight-EU (kg): | 2,208 |
| Colours: | 8 |
| NCAP Safety Rating: | Five-Star |
---
Global Electric Vehicle (EV) Market
---
Battery-electric vehicles (BEVs) and plug-in hybrid electric vehicles (PHEVs), more commonly referred to simply as, electric vehicles (EVs) or as plug-in electric cars, have come a long way over the past decade and certainly a long way over the past 100 years.
Electric vehicles came into prominence in the early 1900's, a time when horse-drawn carriages were the primary mode of transportation. Archived black and white photographs from that period show famous avenues like Madison Avenue in New York city filled with horse-drawn carriages. In stark contrast, a similar photograph taken a decade later of Madison Avenue showed not a single horse-drawn carriage. Instead the avenue was filled with motor vehicles, a new invention at that time.
We are now witnessing a similar fundamental shift in road transportation, as polluting internal combustion engines (ICE) petrol and diesel vehicles are being replaced by low-emission and zero-emission electric vehicles. In countries like the United Kingdom, a leader in e-mobility, we can expect a comprehensive replacement of petrol and diesel vehicles by 2030 (UK will ban the sale of new ICE cars in 2030). The UK is not the only country that has a vision of a mass transition to zero-tailpipe emission electric cars.
Since 2011, the global electric vehicle (EV) market has increased at a year-over-year growth rate of over 50%. In 2020, according to the Global EV Outlook 2021 report, the global stock of electric vehicles (EVs) had surpassed 10 million units . In 2015, the Global stock was just over 1 million units. In 2020, Europe accounted for the largest share of new car registrations of EVs (1.4 million registered electric vehicles), followed by China (1.2 million electric vehicles). In Europe, countries like Norway, Iceland and Sweden continue to show strong leadership in the transition to electric driving. In Norway more than 75% of new cars are electric, followed by 50% in Iceland and 30% in Sweden.
However, this is not just a western phenomenon. A number of countries across the world have announced their support for electric cars, to include India. Pure electric cars are now common sightings in a number of global markets, and EV automotive manufacturers, like California based Tesla Motors are now household brands.
Traditional automotive manufactures have also shown significant commitment to the migration to electric engines, to include Volvo Cars, the Volkswagen Group, Renault, Nissan, Peugeot, Hyundai, Mercedes, Land Rover and many more. Forecast for the sale of EVs suggest up to 30 million electric vehicles to be sold before the end of the current decade.
---
While e-zoomed uses reasonable efforts to provide accurate and up-to-date information, some of the information provided is gathered from third parties and has not been independently verified by e-zoomed. While the information from the third party sources is believed to be reliable, no warranty, express or implied, is made by e-zoomed regarding the accuracy, adequacy, completeness, legality, reliability or usefulness of any information. This disclaimer applies to both isolated and aggregate uses of this information.
---
Related articles
---