---
---
Electric Cars: The Basics
---
For those of you new to zero-emission electric driving, we recommend a read of the following articles:
---
Sign up to the newsletter
---
Land Rover Discovery Sport PHEV SUV
---
The Land Rover Discovery Sport has been a best-selling model for JLR. The luxury SUV was introduced in 2014 to replace the Freelander compact SUV. The Discovery Sport is part of the third generation of SUVs from the British automotive manufacturer. The SUV is now also available as a mild hybrid electric vehicle (MHEV) and a plug-in electric vehicle (PHEV). Land Rover has yet to announce a date for the introduction of the pure electric Discovery Sport.
The conventional combustion engine Discovery Sport family SUV has been popular for a good reason i.e. the enhanced practicality with the seven-seats. However, due to the placement of the onboard EV battery, the Discovery Sport plug-in hybrid electric vehicle, is limited to five-seats. Despite this loss of practicality, the PHEV variant makes up with its increased environmental credentials and better fuel economy, compared to the pure combustion engine variant.
The Discovery Sport plug-in offers an emission-free range up to 60 km (WLTP certified), and incorporates a 15 kWh onboard EV battery. Both the range and EV battery size are typical of EVs of this type, however, the newest PHEVs have started to offer a larger EV battery i.e. more electric range.
Having said that, the claimed 60 km, even adjusted for real-world driving, will be more than sufficient for most daily driving needs. Expect a real-world range closer to 50 km. By leveraging the advantage of the cheaper cost of driving on electric mode and improving the overall efficiency of the electric vehicle (EV), families can save substantial money on commuting.
Land Rover claims a fuel economy up to 1.7 l/100km. However, to achieve anything close to this claimed economy, driving on the zero-emission e-mode on a regular basis is imperative. Of course, if you drive mostly on the motorway and need to call on the internal combustion engine (ICE) for most of your driving, the advantage of driving a plug-in hybrid EV is substantially reduced and the cost of motoring increased!
To leverage the benefits of electric driving, having a fully charged EV battery is imperative. The Sport PHEV can be charged up to 32 kW DC charging: 0-80%: 30 minutes. Do keep in mind that not all plug-in electric cars are capable of DC rapid charging. In all probability, on most occasions, the EV will be charged overnight at home (AC charging).
We at e-zoomed recommend the use of a dedicated EV charger for home charging. The single-phase easee EV charger is a good example. The PHEV can be charged up to 80% in just over 2 hours. The plug-in electric SUV incorporates a 7 kW onboard EV charger. We also recommend a 'topping up' approach to EV charging. This way, the electric miles can be used more often, and regular topping up of the EV battery is beneficial for the long-term health of the EV battery. Land Rover offers a 6 years or 90,000 km warranty.
In terms of performance, the all-wheel drive Land Rover Discovery Sport P300e PHEV is decent. The EV pairs a 1.5-litre (3-cylinder) petrol combustion engine with an electric motor. Despite the size and weight (2,168 kg) of the EV, acceleration is good: 0-100 km/h in 6.2 seconds and a 209 km/h top speed (maximum power: 309 HP/ torque: 540 Nm). The drive is refined and in e-mode the ride quality is even better and quieter!
The EV has much to offer in terms of practicality. For a start, the five-seat interior cabin is spacious and high quality. There is ample headroom and legroom for all occupants, and the visibility from the vehicle is good. Moreover the driver seat is well positioned, enabling an 'easy-to-drive' large family SUV experience. In terms of boot space, the EV offers up to 963 L, which is certainly very generous.
The EV has a good level of standard kit on offer, to include: Pivi Pro with connected navigation, Android Auto, Apple CarPlay, 10″ touchscreen, traffic sign recognition and adaptive speed limiter, lane keep assist, rear camera, adaptive cruise control, roll stability control, dynamic stability control, powered tailgate, keyless entry and more.
The tailpipe emissions for the PHEV (38g CO2/km) is significantly lower compared to the conventional combustion engine variant (211g CO2/km). Do keep in mind, the lower the tailpipe emissions, the less polluted is the local air quality, and on EV mode, the tailpipe emissions are zero. Bottom-line, plug in electric cars are good for the environment and wallet!
The Discovery Sport plug-in hybrid electric vehicle is not available in India.
---
| | |
| --- | --- |
| Practical and spacious | Cheaper family SUV alternatives available |
| Comfortable drive and good off-road capability | Seven seats not an option for the PHEV variant |
| Running on electric mode is cheap | Limited electric range |
---
Gallery
---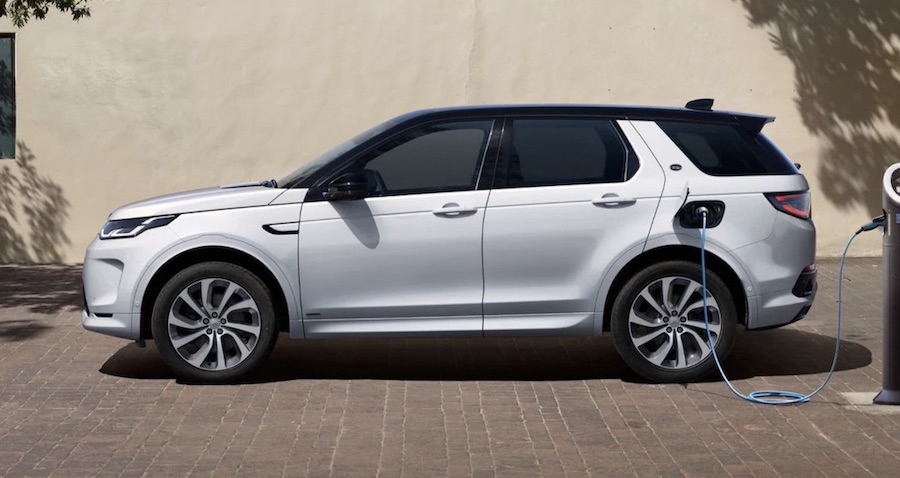 The Land Rover Discovery Sport Plug-In Hybrid (credit:JLR)
---
| | |
| --- | --- |
| EV Type: | Plug-In Hybrid Electric Vehicle (PHEV) |
| Vehicle Type: | SUV |
| Engine: | Electric/ Petrol |
| Available In India: | No |
---
Trims (2 Options)
DISCOVERY SPORT R-DYNAMIC SE
DISCOVERY SPORT R-DYNAMIC HSE
---
| | |
| --- | --- |
| EV Battery Type: | Lithium-ion |
| EV Battery Capacity: | Available in one battery size: 15 kWh |
| Charging: | 32 kW DC charging: 0%-80%: 30 minutes. Onboard charger: 7 kW AC (0%-100%: 2 hrs 12 mins) |
| Charge Port: | Type 2 |
| EV Cable Type: | Type 2 |
| Tailpipe Emissions: | 38 – 34g (CO2/km) |
| Warranty: | 6 years or 90,000 km |
---
| | |
| --- | --- |
| Slow charging AC (3 kW – 3.6 kW): | 6 – 12 hours (dependent on size of EV battery & SOC) |
| Fast charging AC (7 kW – 22 kW): | 3 – 8 hours (dependent on size of EV battery & SoC) |
| Rapid charging AC (43 kW): | 0-80%: 20 mins to 60 mins (dependent on size of EV battery & SoC) |
| Rapid charging DC (50 kW+): | 0-80%: 20 mins to 60 mins (dependent on size of EV battery & SoC) |
| Ultra rapid charging DC (150 kW+): | 0-80% : 20 mins to 40 mins (dependent on size of EV battery & SoC) |
| Tesla Supercharger (120 kW – 250 kW): | 0-80%: up to 25 mins (dependent on size of EV battery & SoC) |
Note 1: SoC: state of charge
---
| | |
| --- | --- |
| Height (mm): | 1727 |
| Width (mm): | 2069 |
| Length (mm): | 4597 |
| Wheelbase (mm): | 2741 |
| Turning Circle (m): | 12.3 |
| Boot Space (L): | 963 |
---
| | |
| --- | --- |
| EV Battery Capacity: | 15 kWh |
| Pure Electric Range (WLTP): | 60 km |
| Electric Energy Consumption (Wh/km): | 209.6 |
| Fuel Consumption (l/100km): | 1.5 – 1.7 |
| Charging: | 32 kW DC charging: 0%-80%: 30 minutes. Onboard charger: 7 kW AC (0%-100%: 2 hrs 12 mins) |
| Top Speed: | 209 km/h |
| 0-100 km/h: | 6.2 seconds |
| Drive: | All-wheel drive (AWD) |
| Electric Motor (kW): | N/A |
| Max Power (HP): | 309 |
| Torque (Nm): | 540 |
| Transmission: | Automatic |
| Seats: | 5 |
| Doors: | 5 |
| Unladen Weight-EU (kg): | 2,168 |
| Colours: | 12 |
| NCAP Safety Rating: | Five-Star |
---
India Electric Vehicle (EV) Market
---
India, like many other countries, is well positioned to benefit from the shift to zero-tailpipe emission electric driving. Road transportation is a major contributor to air pollution (over 30%), choking our towns, cities and villages across India. Diesel vehicles, in particular, diesel trucks and diesel buses, are significant sources for tailpipe emissions. But given the rise in the standard of living, since liberalisation, the demand for privately owned passenger cars has increased at an unprecedented pace, further worsening the air quality. India has more than 3 crores (30 million) cars releasing tailpipe emissions on its roads!
Though we have seen some improvements in air quality during the ongoing pandemic (as a result of lower vehicle traffic), India's shift to electric driving will be key in achieving long-term higher air quality. Of course, apart from EVs, the continued development of green and renewable energy infrastructure will be key in achieving lower long-term air pollution. India has already demonstrated global leadership in regards to large-scale solar and wind projects! Hopefully, India will replicate the success with zero-emission electric vehicles.
Despite recent announcements and support from local and national government agencies in India, the EV market is still at a nascent stage, well, at least in terms of electric cars and electric vans. Two-wheel electric scooters and three-wheel electric rickshaws (e-rickshaws) have demonstrated a strong uptake, and India is poised to become a global leader in electric scooters and electric rickshaws (e-tuk). In fact, the ubiquitous e-rickshaw commands an impressive 83% of the Indian electric vehicle market. India currently has over 15 lakhs (1.5 million) e-rickshaws, with each EV playing a role in reducing tailpipe emissions on our roads in India.
Sales of passenger electric cars is still at an early stage. In FY2021, though the market witnessed a growth of nearly 110% from the previous year, the absolute volume of cars sold was only 5,905 electric cars. Currently there are less that 15 pure electric car models available on sale in India.
Tata Motors, the biggest automotive manufacturer in India has launched the Tata Nexon electric SUV. Mahindra Electric, another leading Indian automotive manufacturer, has also launched a number of plug-in electric vehicles (EVs), to include, the Mahindra eVerito electric car, Mahindra eSupro electric van and Mahindra e2o Plus compact electric car. International manufacturers, like UK based MG Motors, have also launched the MG ZS electric SUV in India. Also available are the all-electric Jaguar I-PACE SUV and the Hyundai Kona electric SUV.
---
Benefits Of Electric Driving
---
The benefits of electric driving are many, with significant advantageous over petrol and diesel internal combustion (ICE) engine cars, for all stakeholders. These benefits include:
Lower to zero-tailpipe emissions
Lower running costs
Lower taxes
Lower maintenance costs
Lower noise pollution
Convenience of charging at home
Smoother drive
Instant torque for acceleration
Lower environmental impact
Below we have highlighted three of our favourite benefits of owning and driving an electric car.
---
Improved Air Quality
---
Battery-electric vehicles (BEVs) or all-electric vehicles do not have tailpipe pollution. In fact, such electric cars do not even have a tailpipe! Zero-emission electric driving has a real and immediate impact on local air quality i.e. improving air quality. While, plug-in hybrid electric vehicles (PHEVs) have reduced tailpipe pollution compared to traditional petrol and diesel vehicles. The sooner we migrate to electric driving in India, the sooner we can improve air quality for all our cities, towns and villages. Lower air pollution will also result in a reduced number of health issues arising from inhaling toxic pollutants.
---
Lower Maintenance & Running Costs
---
Electric vehicles (EVs) are cheaper to maintain and drive. Pure electric cars have far fewer moving parts compared to internal combustion engine (ICE) vehicles. The fewer the moving parts, the lower the probability of repair and maintenance. Moreover charging an electric car can cost as little Rs 50 per 100 kilometres! A full charge can cost between Rs 100 and Rs 200. Significantly cheaper than filling a tank of petrol or diesel!
---
Lower Noise Pollution
---
Yes, we in India are far more resilient to noise pollution than those living in the western world. We have certainly got used to horns blaring and engines roaring, day and night. But that does not mean we enjoy or welcome noise pollution. In fact, quite the opposite!
Though much focus has been on the advantageous of 'air quality' with an electric car, just as important, is the benefit of lower noise pollution. In fact, pure electric cars are silent, with an inbuilt 'sound booster' to increase road safety for pedestrians. As our cities in India and across the world become densely populated with cars, the significant negative impact on 'quality of life' as a result of increased noise pollution from petrol and diesel vehicles, is just as dangerous, as increased air pollution. Battery-electric cars are a perfect solution in reducing noise pollution and increasing the living standards for us all. Of course, one can only hope that the self inflicted 'horn blaring' pollution will also reduce!
---
While e-zoomed uses reasonable efforts to provide accurate and up-to-date information, some of the information provided is gathered from third parties and has not been independently verified by e-zoomed. While the information from the third party sources is believed to be reliable, no warranty, express or implied, is made by e-zoomed regarding the accuracy, adequacy, completeness, legality, reliability or usefulness of any information. This disclaimer applies to both isolated and aggregate uses of this information.
---
Related articles
---