---
---
Electric Cars: The Basics
---
For those of you new to zero-emission electric driving, we recommend a read of the following articles:
---
Sign up to the newsletter
---
The Audi SQ8 e-tron Sportback
---
Audi AG, a Bavaria (Germany) based luxury automotive manufacturer is a wholly owned subsidiary of Volkswagen AG, the Germany automotive group. Volkswagen AG is one of the leading automotive companies in the global electric vehicle (EV) industry. Volkswagen aims to sell 3 million electric vehicles by 2025 and launch up to 70 new EV models over the next 10 years.
With the launch of its electric vehicle ID. Family, VW is fast cementing a dominant position is to become the world's largest electric vehicle manufacturer by 2028, with the automotive behemoth planning to manufacturer 22 million electric vehicles. The Audi all-electric e-tron portfolio includes:
Audi SQ8 e-tron Sportback
For those seeking a high performance and sportier styled premium pure electric SUV, few can compete with the all-electric SQ8 Sportback e-tron. The e-SUV features a distinctive coupé-SUV roofline to enhance the exterior appeal and performance of the EV. According to Audi, "the Sportback e-tron has the unmistakable dimensions of an SUV – with the dynamic silhouette of a sporty coupé". Indeed, this is correct, in that, the length (4.9 metres), wheelbase (2.9 metres) and width (2.1 metres) of the SQ8 SUV and SQ8 Sportback are similar. However the key differences are in the height and the boot space.
The SQ8 SUV height is 1633mm, while the height for the Sportback is 1619mm. The Sportback has a smaller boot (528 L) compared to the SUV (569 L). Both body styles have a frunk (62 L). Also, given the sleeker roof, headroom is compromised in the cabin and rear-view visibility impacted.
However, in return, the aerodynamics and efficiency of the electric vehicle (EV) is improved, compared to a more traditional SUV body style. The SQ8 Sportback has an improved aerodynamic efficiency (0.24 Cd), compared to the traditional SUV (0.27 Cd). Moreover, for the latest generation e-tron Sportback, the drag coefficient has been reduced from 0.26 to 0.24 Cd.
The SQ8 Sportback pure electric SUV is available in only one EV battery size: 114 kWh. Audi claims that the SQ8 Sportback e-tron can achieve an electric range up to 475 km (WLTP) on a fully charged EV battery. Of course, the real-world zero-emission electric range will differ from the World Harmonised Light Vehicle Test procedure (WLTP) quoted range. Expect a real-world e-range closer to 400 km Certainly, a useful and practical range for short and long distance travel.
Audi has marginally improved the high-speed DC charging capability of the latest electric SUV. The EV offers ultra-rapid DC charging up to 170 kW, as standard. The EV battery can be charged up to 80% in 31 minutes. At 50 kW DC it will take up to 1 hour and 18 minutes to achieve 80% charge.
The SQ8 Sportback e-tron has a three-phase 11 kW AC onboard charger as standard, with the option to upgrade to a 22 kW AC onboard charger. If you expect the majority of the charging to be done at home, upgrading to a 22 kW AC onboard charger will not be required, as most homes in India are powered by single-phase power supply i.e. in reality you will be charging at 7.4 kW AC.
For those fortunate enough to have access to 11 kW three-phase EV charging at the workplace or any other public charging points, the 114 kWh will take up to 11 hours and 30 minutes, and for 22 kW AC charging, it will take up to 6 hours. Of course, charging at single-phase (7.4 kW AC) will take longer compared to three-phase EV charging. At 7.4 kW AC, it will take up to 18 hours to achieve a full charge. We at e-zoomed recommend a 'topping up' approach to charging an electric car, this way, charging times are always shorter!
The SQ8 Sportback e-tron has an improved asynchronous motor concept. It has upgraded the previous generation 12 coils to 14, further improving the delivery of torque for the Q8 and also reducing the energy required. Unlike the Q8 Sportback e-tron, which has two electric motors, the SQ8 Sportback e-tron incorporates a three-motor concept i.e. three electric motors.
A 124 kW electric motor on the front axle, and two 98 kW electric motors in the rear. This allows for a boost performance up to 370 kW. The rear motors are in constant use, while the front motor is activated on demand, to boost power. The all-electric, all-wheel drive SQ8 Sportback e-tron can achieve 0-100 km/h in 4.5 seconds (maximum power: 503 PS/ torque: 973 Nm). The top speed of the EV is 200 km/h.
In terms of interior quality, equipment and technology, the EV reflects the premium price tag. The e-SUV comes with Audi Technology Pack as standard, which includes the premium Bang & Olufsen sound system (16-speakers/705 watt). The SQ8 EV has 40 driver assistance systems, supported by five radar sensors, five cameras and 12 ultrasonic sensors. The EV also incorporates remote paring assist plus, which is perfect for those tight parking spaces.
The SQ8 also uses the MMI touchscreen operating system, as is the case with the other Audi electric cars. The SQ8 Sportback has two high-resolution displays, 8.6 inch and 10.1 inch. Also as standard is a head-up display and multi-coloured interior ambient lighting.
As is the trend now with global automotive manufacturers, Audi is also keen to demonstrate its commitment to sustainability, in particular, in regards to materials used for production. Audi has used recycled materials for insulation, damping and carpeting. The EV also incorporates recycled automotive plastic waste.
Bottom-line, electric driving is good for the environment and the wallet!
---
| | |
| --- | --- |
| High performance and good electric range | Cheaper pure electric SUVs are available |
| Attractive Coupé-SUV exterior styling | 22 kW AC onboard charger not standard |
| 170 kW DC/ 11 kW AC onboard charger as standard | Option packs are expensive |
---
Gallery
---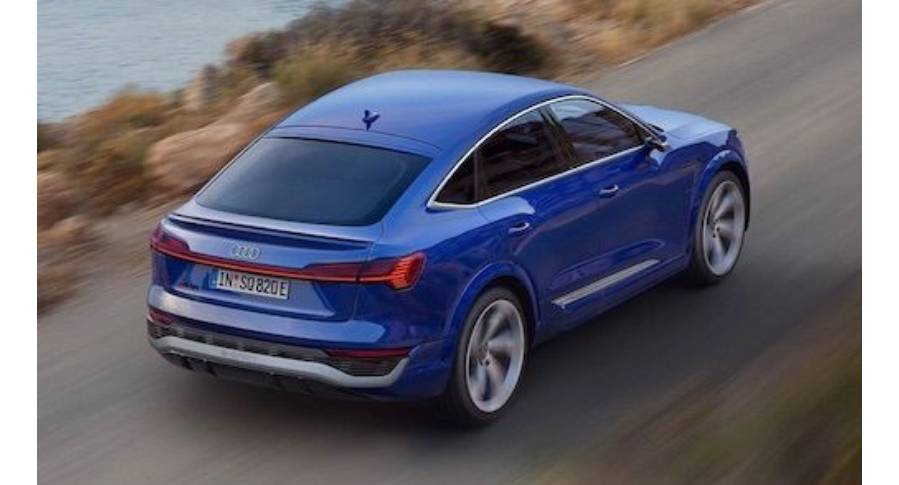 The All-Electric Audi SQ8 e-tron Sportback (credit: Audi)
---
| | |
| --- | --- |
| EV Type: | Battery-Electric Vehicle (BEV) |
| Vehicle Type: | Coupé-SUV |
| Engine: | Electric |
| Available In India: | No |
---
Trims (1 Option)
Audi SQ8 e-tron Sportback (from Rs N/A )
---
| | |
| --- | --- |
| EV Battery Type: | Lithium-ion |
| EV Battery Capacity: | Available in two battery sizes: 114 kWh |
| Charging: | 170 kW DC charging (10%-80%: 31 mins). Onboard charger: 11kW AC (0%-100%: 11.30 hrs) |
| Charge Port: | Type 2 |
| EV Cable Type: | Type 2 |
| Tailpipe Emissions: | 0g (CO2/km) |
| Battery Warranty: | 8 years or 160,000 km |
---
| | |
| --- | --- |
| Slow charging AC (3 kW – 3.6 kW): | 6 – 12 hours (dependent on size of EV battery & SOC) |
| Fast charging AC (7 kW – 22 kW): | 3 – 8 hours (dependent on size of EV battery & SoC) |
| Rapid charging AC (43 kW): | 0-80%: 20 mins to 60 mins (dependent on size of EV battery & SoC) |
| Rapid charging DC (50 kW+): | 0-80%: 20 mins to 60 mins (dependent on size of EV battery & SoC) |
| Ultra rapid charging DC (150 kW+): | 0-80% : 20 mins to 40 mins (dependent on size of EV battery & SoC) |
| Tesla Supercharger (120 kW – 250 kW): | 0-80%: up to 25 mins (dependent on size of EV battery & SoC) |
Note 1: SoC: state of charge
---
| | |
| --- | --- |
| Height (mm): | 1619 |
| Width (mm): | 2189 |
| Length (mm): | 4915 |
| Wheelbase (mm): | 2928 |
| Turning Circle (m): | N/A |
| Boot Space (L): | 528 |
---
| | |
| --- | --- |
| EV Battery Capacity: | 114 kWh (106 kWh net capacity) |
| Pure Electric Range (WLTP): | 475 km |
| Electric Energy Consumption (Wh/km): | N/A |
| Charging: | 170 kW DC charging (10%-80%: 31 mins). Onboard charger: 11kW AC (0%-100%: 11 hrs 30 mins) |
| Top Speed: | 200 km/h |
| 0-100 km/h: | 4.5 seconds |
| Drive: | All-wheel drive (AWD) |
| Electric Motor (kW): | 370 |
| Max Power (PS): | 503 |
| Torque (Nm): | 973 |
| Transmission: | Automatic |
| Seats: | 5 |
| Doors: | 5 |
| Unladen Weight (kg): | 2,585 |
| Colours: | N/A |
| NCAP Safety Rating: | N/A |
---
What Is A Heat Pump In Electric Cars?
---
| EV Heat Pump: The Basics | |
| --- | --- |
| What is a heat pump in electric cars? | In conventional internal combustion engine (ICE), petrol and diesel vehicles, the energy (waste heat) generated from the engine (powertrain), is captured to re-use for heating the interior cabin of the vehicle. However, in pure electric cars, the heat generated (waste heat) from the electric drive (electric motor, inverter, on-board AC charger) and the onboard high-voltage EV battery is not as much, as the heat generated in conventional cars, and cannot be re-used on its own to provide sufficient cabin heating (electric cars are more efficient than petrol/ diesel cars). Therefore in EVs, the sources for capturing heat, also includes the outside air i.e. it is a multi-source heat pump system. This captured heat is re-used for the onboard EV battery management and also for heating the cabin interior, increasing the electric car efficiency and reducing the need to draw energy from the onboard EV battery. In general, a lithium-ion EV battery is less energy efficient during colder months (similar to the laptop or smartphone battery). |
| How does a heat pump increase electric range in colder winter months? | Electric cars that do not incorporate an onboard heat pump, rely on the energy of the onboard EV battery for heating the interior cabin of the electric car, further impacting the available e-range. In contrast, EVs with a heat pump, do not rely on the onboard EV battery to heat the cabin. Instead, the heat pump sources heat from multiple sources and releases energy-efficient heating into the cabin. Put another way, an electric car with a heat pump does not place any demand on the onboard EV battery for heating the interior cabin. There is ample real-world evidence to prove that electric cars with a heat pump offer longer electric range in winter months, compared to electric cars that do not incorporate a heat pump. The average improvement in range is between 10% to 20%. |
| How does a heat pump work in an electric car? | Step 1: naturally heated antifreeze is channelled into the heat pump evaporator, where the heat is transferred to the coolant circulating in the unit. The evaporator converts the coolant into gas (evaporation). Step 2: the gas is sucked into a compressor to increase the pressure of the gas. When air is compressed it increases its temperature. The gas temperature is increased to 80° C. Step 3: the compressed gas is transferred to a condenser, where the heat is transferred to water in the condenser. Step 4: the heat is then circulated to the interior cabin, while the gas is converted into liquid form, and is transferred back to the heat pump evaporator via an expansion valve. The cycle is then repeated. |
| Is a heat pump used only for heating? | No. A heat pump can also be used for cooling. As an example, the Audi Q7 EV uses the onboard heat pump for heating and cooling. |
| Does a heat pump come as standard in EVs? | Though some manufacturers offer the heat pump as standard, most offer it as an optional extra. We recommend purchasing the option. |
| Can a heat pump be installed in an electric car post delivery? | Usually it is not possible, given the complexity of installing a heat pump. So always order it at the time of purchase. |
| Are all heat pumps in electric cars the same? | No. There is a difference in technology, approach and efficiency achieved for different manufacturers. As an example, Hyundai and Kia claim to have one of the most efficient heat pumps, given the ability of their technology to dynamically choose the most appropriate heat source at a given moment. Hyundai claims the heat pump incorporated in the all-electric Hyundai Kona can improve the winter electric range up to 18%, significantly higher than the average improvement (10%). |
| Are there any other advantages offered by a heat pump in colder months? | Yes, you can pre-heat the electric vehicle (EV) via your mobile app before you commence your journey. This way you can have a toasty warm interior cabin on a cold winter day! |
---
While e-zoomed uses reasonable efforts to provide accurate and up-to-date information, some of the information provided is gathered from third parties and has not been independently verified by e-zoomed. While the information from the third party sources is believed to be reliable, no warranty, express or implied, is made by e-zoomed regarding the accuracy, adequacy, completeness, legality, reliability or usefulness of any information. This disclaimer applies to both isolated and aggregate uses of this information.
---
Related articles
---